How to Install Motor on MTSKT310DB Dual Belt-driven Truck? Check below Video:
New Gravity Casting Technology:
1. Aluminum liquid flow into truck mould by liquid's weight naturally, this way can delete mould's inside air clearly.
2. do heat treatment after demoulding (truck surface is a little rough because of heat treatment). Prouction time is longer than old die casting technology, and the production cost is twice than before.
3. Hardness reached out HRB65 around, which can stand over 150kg weight for professional skateboarders.
Compatible Motor: 5055/5065/6355/6365/6374
Motor Mount: 30mm and 44mm hole distance 
1. Maytech Brushless Outrunner Sensored Motors
2. Maytech New Esk8 Remote MTSKR2005WF with 3 speed Modes Esk8 Only: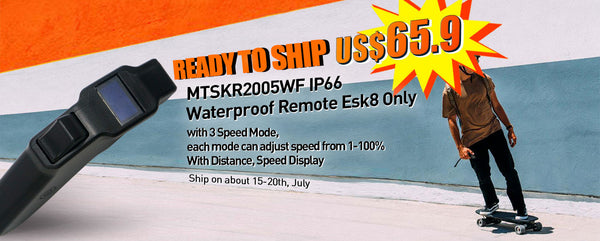 3. Maytech VESC Electric Speed Controller: