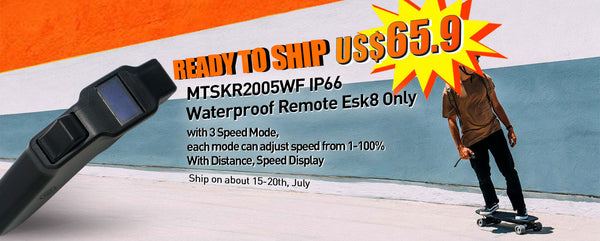 1. Remote Apperance: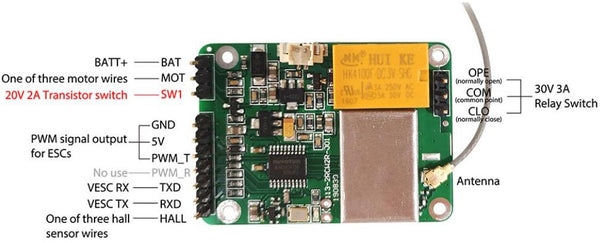 2. Receiver wiring instruction with VESC or VESC based Controllers: 
There's 2 ways to connect receiver and VESC:
1. Connect VESC signal cable to receiver PWM; 5V; GND (as above receiver pin definition)
2. You can also use UART: 
Cross connection of Receiver TXD/RXD and VESC RX/TX: Receiver's TXD>> VESC RX;Receiver RXD>> VESC TX, 5V and GND also need to be connected, better use stranded wire, wire length should be shorter than 20cm.
VESC supports UARR and PWM(PPM) throttle control. When use with Maytech waterproof remote, you can select PPM and UART, and select corresponding control in remote ("Data Source" and "VESC Thr"). PPM to control throttle and UART to read voltage/current/ temperature/speed/etc.
Please set "Baudrate" to "115200 bps" in VESC_TOOL.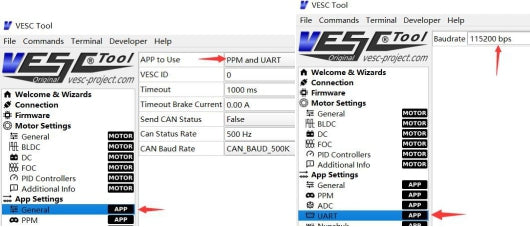 3. Pairing: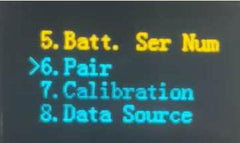 If remote and receiver are paired successfully before, then no need to pair them again.

If remote and receiver does not get paired before, please pair them according to below steps:
1) Turn off receiver.
2) Select【>4.Pair】and long press function button for 1 second to enter pair status. When screen shows
【Paring…】, turn on receiver and it will auto-pair with remote control in 0.5 second. Red led lights steady. Pairing competed. Remote screen will automatically return to main menu. If auto-pairing time is over 1 second and screen still shows【Pairing…】, pairing fails and it needs to turn off and turn on receiver again to pair them. If you don't want to continue the pairing process, long press function button to exit to main menu.
4. Calibration
Due to environmental changes during use, remote calibration may be out of proportion to the output of PWM signal. Then it needs to do calibration.
Select 【 >5.Calibration 】 and long press function button for 1 second to enter Sub-menu. Once enter calibration, it must need to be finished. If don't continue calibration and exit, remote and receiver will stop working together.
Press throttle trigger to top and loose it. Then press brake trigger to top and loose. When press trigger, the screen will prompt【Calibrating】 and 【 Cal. OK】.
After both two are【 Cal. OK】, long press function button to return to main menu