Regular price
$562.50 USD
Regular price
Sale price
$562.50 USD
Unit price
per
Sale
Sold out
In Stock IP68 Waterproof 300A 75V VESC for Electric Hydrofoil Efoil Speed Controller MTSPF7.5H-WP
Model no

MTSPF7.5H-WP

VESC Current

300A

Input Volt

5-18S Lipo (18V-75V)

BEC

With

Watercooled

Yes

Hardware version

based on V75/300

Firmware 

Upgradable

Capacitors

9pcs 

100V 470μf capacitor

Application

Efoil, electric surfboard, electric kayak, electric outboard, Jetsurf, watercraft, electric boat, underwater ROV, etc
Set in VESCTOOL:
-Motor Current Max: ≤300A (According to your motor current)
-Absolute Maximum Current: 350A (According to your motor current)
-Battery Current Max: ≤150A (According to your battery discharge current)
 Ports Definitions, waterproof junction for all pins. 
Features: 
-This new controller can work to highest 75V voltage, can use for electric skateboard, surfboard, motorcycle, ATV, etc., fixed the problem of high voltage and compatible with VESC_TOOL that most controller can't do in the current market.
-Compatible with VESC_TOOL, programmable;
-Use High voltage components, more stable, better performance;
-With 24pcs mosfets;
-With high quality machined aluminum case;
-With Great heat dissipation for high voltage and high current applications;
-Compatible with brushed and brushless Motor, intrunner and outrunner motors
-Sensored or Sensorless operation + Hybrid mode
-Adjustable Forward/Backward/Brake
-Regenerative Braking Function
-Configurable RPM, Current, Voltage and Power limits
-Support PPM, Analog (ADC), UART, Canbus input
-Support BLDC square wave mode control and FOC sine wave mode
-Communication ports: USB, CAN, UART
-Throttle curve and ramping for all input sources
-Seamless 4-quadrant operation
-Motor Revolution, Amp Hour, Watt Hour counting
-Real time data analysis and read out via communication ports
-Adjustable protection against:
 Max and Minimum Input(Battery) Voltage
 Max Motor Current and Input(Battery) Current limits
 Max Power (Wattage)
 Max Motor and ESC Temperature
 Max Regenerative Braking Current (separate limits for the motor and the input)
Compare to Original 75_300 VESC_TOOL compatible controller, what upgraded points and advantages MTSPF7.5HK have? 
With CNC aluminum alloy heat dissipation, waterproof and watercooled case. 

With larger heat sink case that has better heat dissipation performance. 

Its PCB board has 4pcs MOS paralleled, could withstand higher current, original version only has 3pcs MOS. 

Its PCB board with cooper stripe, can reduce resistance in high current, better heat dissipation. 

With larger capacitor, 9pcs 100V 470μf capacitor, while original version only has 6pcs 80V 470μf. 

With separate design of strong and weak current circuit board, and between 2 boards added heat sink for better heat dissipation. 

Exclusive 5V and 12V external power supply interfaces will not cause interference when powering analog circuits such as twist/thumb throttles.
Some Using Tips for this SUPERFOC Controller: 
1. If you will use the controller for water sports or other application that will need to use water cooling, then better choose type with water cooling tube, and work with water pump for cooling.
Blow has compatible water pump setup recommended, if you need, can order together. 
2.Must do a good job of heat dissipation! If place it in a sealed container(recommend touse metal container), it must be forced to be cooled with water. Also make sure your container has enough space for the controller, make sure the cooling tube do not bent, otherwise will influence water flow in cooling tube, also make sure water flow is enough for cooling before office use.
3. Before the new ESC is officially used, please test it with a low-voltage and low-throttle, after success, then slowly increase voltage and throttle. Be sure to pay attention to safety during this period!
4. Recommend to add an electronic switch with short circuit protection function between the ESC and battery, such as MTS2009AS 300A electronic switch or BMS with switch function. It is not recommended to use only contactor without short circuit protection!
5. The battery and motor side terminals must be connected tightly, they can't be loose. Also please make sure terminals not touch case or other wires, here's the video shows you the way to install cold-pressed terminal connector: https://youtu.be/unFfV9RPPCc
6. In actual use, please use hot melt glue to fix the hall/UART interface cables the corresponding sockets of the ESC, to prevent the cables loose due to the bumps of the vehicle!
7. Please do not disconnect relay switch or electronic switch during usage ! Otherwise it will cause electromagnetic interference, which might damage the controller. 
8. If you use the controller to work with our MTSKR1905WF remote on Esurf/ Efoil, please noted below settings: 
Our remote PWM signal output pulselength in Esurf mode is 1-2ms, no brake no stop, and in controller default pulselength is 1ms start, 2ms end, 1.5ms center, so if you will use our remote in Esurf mode, then please adjust below settings in VESC_TOOL: 
PPM Control Type: Current no reverse
PPM Mapping: Pulselength Start: 1.1ms; Pulselength End: 1.9ms; Pulselength Center: 1.5ms
9. In PPM Control type, do not use Duty Cycle or Duty Cycle No Reverse, this control type only works at fighting robots, 3F Prototyping, drone application, because this control type can't fully disconnect battery power, it needs battery to absorb braking energy. 
The above tips are only suggestions based on the experience of our engineers. how 
to actually operate is up to you.  Parameters for different setup is also different, 
please noted
Videos show you how to connect cables to the controller cold-pressed terminal connector:
Related Products: (Click the following pictures to check more products)
300A 85V Electronic Anti-spark Switch: 
Water Pump Set for Water Cooling System: 
Maytech Electric Surfboard / Efoil Kits: 
Maytech MTSKR1905WF IP67 Waterproof Remote for Esk8/Esurf: 
Share
View full details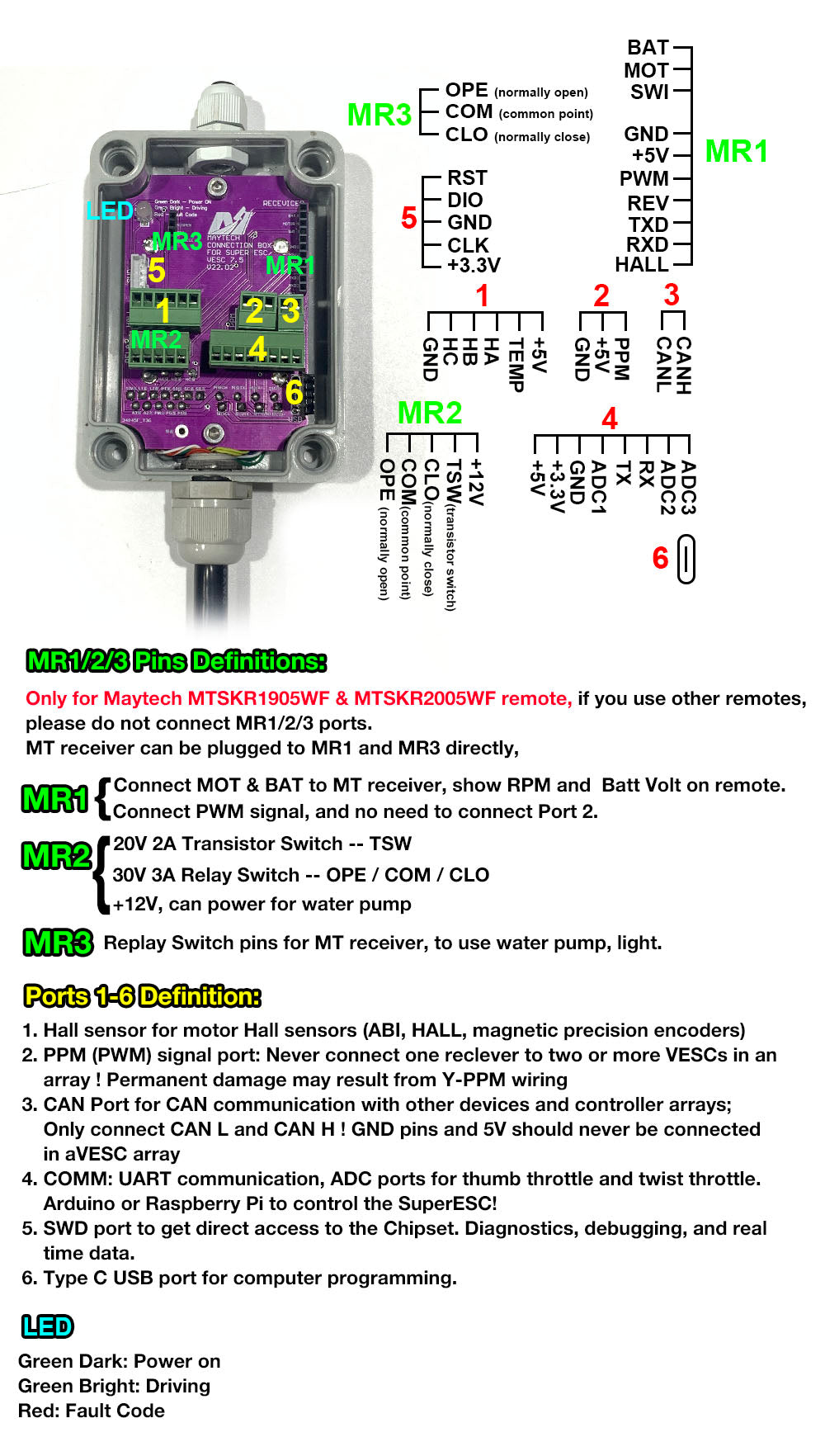 😍 Frequently Bought Together
In Stock 2pcs / 5pcs MTS2009AS Max 300A 85V Anti-spark Switch with Short Cirsuit Protection

$423.70

+

In Stock 2pcs/ 5pcs MTSPF7.5HK 300A 75V based on V75/300 SuperESC Watercooled Speed Controller

$519.00

+

In Stock Maytech Fully Waterproof Efoil Motor MTI65162 120 Brushless Inrunner Motor

$310.00

+

In Stock Maytech IP67 Waterproof Remote MTSKR1905WF Controller for Esk8/ Esurf/ Efoil

$99.90

+

In Stock Maytech IP68 Waterproof MTI85165 200KV Inrunner Brushless Sensorless Motor for Esurf/Efoil/RC Boat KV Customized

$441.80

+

In Stock V5 Bluetooth Module Can Automatically Switch VESC Communication with Receiver or Bluetooth Module

$47.80
---