Regular price
$1,075.60 USD
Regular price
Sale price
$1,075.60 USD
Unit price
per
Sale
Sold out
300A 75V V75_300 based Watercooled Speed Controller + MTI65162 Fully Waterproof Motor + MTSKR1905WF IP67 Waterproof Remote + 300A 85V Anti-spark Switch + Water Pump Set for Efoil, Electric Hydrofoil High Voltage Electric Vehicles, etc.,

Frequently Asked Questions: 
How much voltage can be used for this kit?
         -Max voltage can use for this kit is 75V, if use higher motor KV, max voltage can be used is lower. 
  - The controller is both waterproof and watercooled, so it can work underwater directly. If you put it underwater for cooling, water pump is not needed; If you don't want to put it underwater, and want to cool it through its cooling tube, then water pump is needed. 
Is anti-spark switch needed? 
 - Anti-spark switch function is to protect your battery and VESC systems from damaged by power srges when startup and speed up, especially when use high voltage, so anti-spark switch is recommended to added. Our MTS2009AS antispark switch cal also cut off positive pole power, save your battery power and more convenient to use. 
What applications can this kit be used to? 
 - Efoil, electric hydrofoil, electric boat, electric kayak, electric motorcycle, ev car, agv car, heavy duty cargo robots, electric water sports, counter current swimming machine, etc.,
1. Motor: MTI65162-SF Inrunner Sensorless Waterproof Brushless Motor
Model No.
MTI65162-120-SF
KV
120, if you want other KV, contact

 

agnes@maytech.cn

Shaft
Screw Shaft
Input Voltage
6-14S Lipo (25V-58.8V)
Waterproof Rank
IP68
Max Current
300A
Max Output Power
9KW
Pole Number
6 poles
Max Torque
10N.m
Connector
8.0mm male gold-plated bullet connector
Hall Sensor
Without
Propeller
Optional for 120KV
Customize
KV, logo, shaft, cable, connector, cover, case, etc., contact

 

agnes@maytech.cn
2. MTSPF7.5H 300A 75V VESCTOOL Speed Controller
| | |
| --- | --- |
| Model No. | MTSPF7.5HK |
| Current | 300A |
| Waterproof Rank | Not waterproof, with watercooling |
| Input Voltage | 6-18S Lipo (25V-75V) |
| VESC Hardware | VESC75/300 |
| Signal Format | PWM (PPM), UART, ADC |
| Case Material | Alloy aluminum case |
| Connector | Cold-pressed terminal connector |
| Application | Efoil, foilcart, electric hydrofoil, electric kayak, electric sup board, esurf, underwater scooter, etc., |
Suggest Parameters Set in VESCTOOL:
Motor Current Max: ≤300A (According to your motor current)
Absolute Maximum Current: 350A (According to your motor current)
Battery Current Max: ≤150A (According to your battery discharge current)
You can also use default values after "Setup Motors FOC" detection.
The VESC is open source, these values are just for reference based on our engineer experience for your reference.
Ports definitions:
1.AUX port to supply 12V and 5V to external device;
2.PPM port to connect PPM transceivers;
3.CAN Port for CAN communication with other devices and VESC arrays;
4.Sensor port for motor Hall sensors (ABI, HALL, magnetic precision encoders);
5.SWD port to get direct access to the Chipset. Diagnostics, debugging, and real time data;
6.COMM port for various kinds of other communication methods like I2C, ADC, Uart,You can use your Arduino or Raspberry Pi to control the VESC!
7.USB port for programming.
3. Remote: MTSKR1905WF IP67 Waterproof Remote for Esurf, with PWM & UART Receiver
Model No
MTSKR1905WF (V2),

 

upgraded waterproof and signal strength
Waterproof Rank
IP67 with 2 layers nanometers coating
Control Mode
Esk8/ Esurf
Signal Format
Support Standard PWM (PPM) and UART, output range from 10%-20%, which correspond to ESC/VESCTOOL Compatible controller throttle output range from 0%-100%. 
PWM Signal Output Range
1ms-2ms for throttle no brake in Esurf mode; 1.5ms-2ms for throttle, 1.5ms-1ms for brake in Esk8 mode. 
Double Source Power Supply
Accept 5V power by ESC built-in BEC or extra 5V power
Output Signal
Max 3.3V
Display

Remote and battery power, signal strength, throttle and brake percentage, RPM; speed, mileage; Current, voltage, temp when work with VESC 

Control Pump
Yes (Relay Switch)
Control Light
Yes (Transistor Switch)
Safety Button
Support
Cruise Control
With in Esurf Mode
Brake
With in Esk8 Mode
Wireless Charging
Yes
Package Includes
Transmitter, receiver, charging Pad, receiver, wristband, 3pcs dupont cable
Compatible Controllers
VESC/ Focbox/ Other PWM ESCs that has same signal output range with the remote. 
Application
foil assist system, electric propulsion, underwater thruster, electric outboard, Esurf, Efoil, electric hydrofoil, electric surfboard, electric skate
> Get Manual: Remote Manual and Instruction

4. MTS2009AS Antispark Switch
Model No.
MTS2009AS
Max Current
300A
Input Voltage
6-20S Lipo (25-85V), recommend better work under 75V
Swith Diameter
12mm
Switch Type
NMOS to realize switching on/off Power positive
Waterproof
No, please keep the switch in dry space
Connector
With 4pcs Cold-pressed Terminal Connector
Function
Protect your controller and power supply system when brake or startup
Application
Electric surfboard, efoil, foilboard, jetski, jetboard, jetsurf, motorized hydrofoil, motorcycle, fighting robots, lawnmower robot, Electric mountainboard, ATV, motor bike, Airplane, VTOL, UAV, Dronesetc., 
Features: 
Switch comes with LED light indicator;
Shutdown current less than 1uA;
Suitable for load: three phase motor speed controller;
Boot soft start;
Automatic short circuit protection when boot;
Automatic short circuit protection when work.
5. Water Pump
Feedback Videos on Efoil:
1. To expand the products life, please better wipe off the waters on the products and keep them for all dry after everytime use. 
2. For this kit of the ESC, because the motor is sensorless, suggest to use the default value in the ESC, we have tested the kit before shipment with the default value, do not suggest to modify the values. 
If you have other requirement on motor KV, ESC or other questions, please contact us 

agnes@maytech.cn
Share
View full details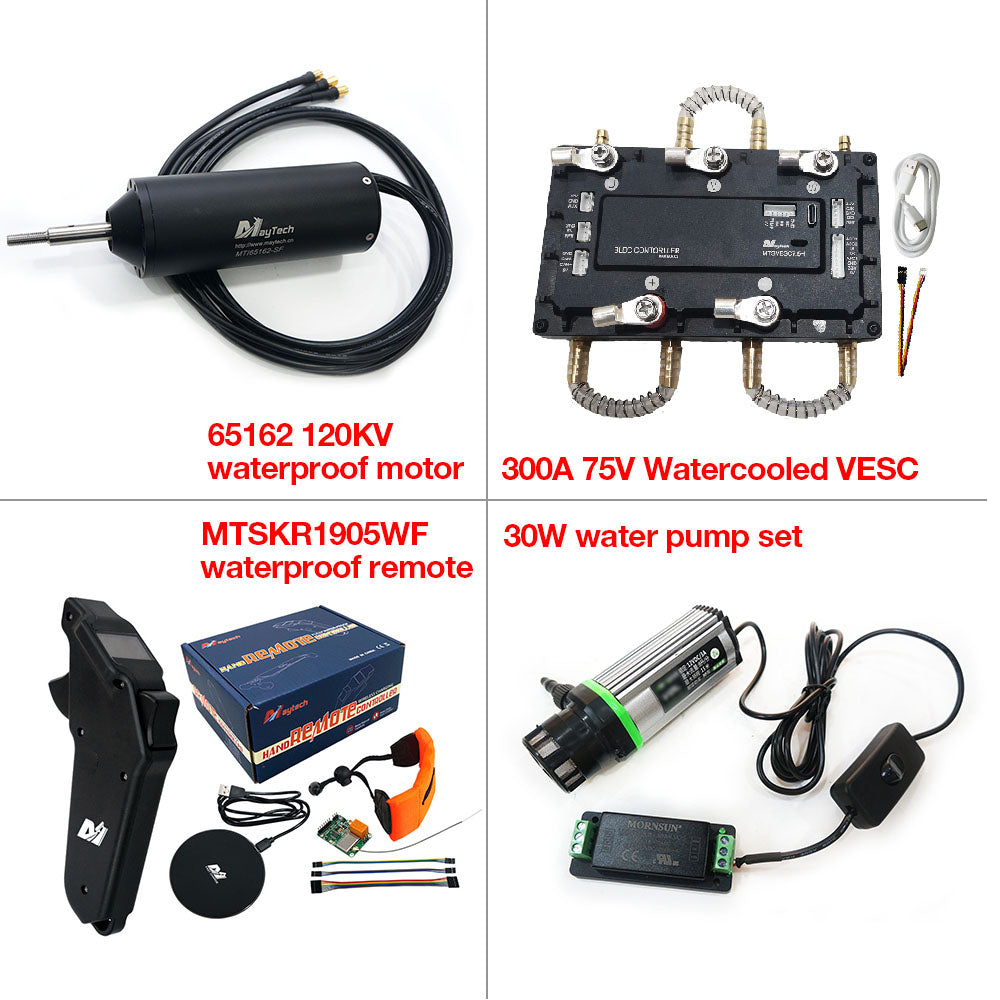 😍 Frequently Bought Together
In Stock Efoil Surfboard Kit 65162 Waterproof Motor + 300A 75V MTSPF7.5H + MTSKR1905WF Remote

$1,075.60
---