Regular price
$270.20 USD
Regular price
Sale price
$270.20 USD
Unit price
per
Sale
Sold out
Maytech New 75V 50A VESCTOOL Compatible Controller MTSPS7.5R Round SuperESC based on V75_300 Hardware for Electric Skateboard Longboard/ Camera Motorized Dolly / Smart Robot Lawnmower/ Fighting Robots
MTSPF7.5R is a circular PCB ESC based on 75V VESCTOOL software and hardware structure. It is mainly used for brushless motors on mobile devices with battery voltages below 18S Lipo. And the round size is particularly suitable for combined installation with large joint motors, to be used for position control of robotic arms and robotic dog legs, etc. In addition, it can also combine with an underwater motor for underwater propulsion and used for electric skateboard, cable camera, electric bike, etc.
Model no: MTSPF7.5R
Voltage: 15V-75V; Lipo 4-18S
Max Cont. Current: 100A@15-50V; 50A@51-75V
Burst Current: 200A@ 15-50V; 100A@ 51-75V
Hardware version: based on V75_300 High Voltage
Firmware : Upgradable by official VESCTOOL
Capacitors: 4pcs 330uf 80V
BEC: 5V/1.5A
PCB size: 88mm(diameter)*18mm(height)
PCB Net weight: 95g.
Electric skateboard/ mountainboard/ bicycles/ scooters / fighting robots/ Combatbots/ Battlebots/ Combat robots, etc.,;
Work with large joint motors;
Robotic arms, robotic dog legs;
Underwater propulsion;
Cable cameras;
High-volt electric vehicles, etc.,
The case verion inside components will be filled with glue for dust proof and shockproof, so even if for fighting robots, electric mountainboard usage, the components could stays in good condition. 
Notice: 
Never connect one reclever to two or more V6/V75  based SUPERFOC ESCs or VESCs in an array!  Permanent damage may result from Y-PPM wiring. 
Only connect CAN L and CAN H ! GND pins and 5V should never be connected in a V6/V75 based SUPERFOC ESCs or VESC array.
1. USB: For programming;
2. PPM: To connect PPM transceivers;
3. SWD: To get direct access to the Chipset. Diagnostics, debugging, and real time data;
4. CAN: For CAN communication with other devices and VESCTOOL compatible controller arrays;
5. COMM: For various kinds of other communication methods like I2C, ADC, Uart,You can use your Arduino or Raspberry Pi to control the SuperESC!
6. Hall Sensor: PH2.0mm JST Port, for motor Hall sensors (ABI, HALL, magnetic precision encoders).
Main Components and Advantages:
PCB layout, size and heat dissipationIt adopts a double-sided 6-layer board layout and a separate design for strong and weak electricity. The production process is 6x3oz immersion gold. Increase the MOS copper area to facilitate heat dissipation, and at the same time by adding via holes to conduct heat, the heat is transferred from the metal bottom surface of the MOS to the back surface of the PCB and to the heat sink. Compared with the traditional heat dissipation from MOS resin surface, the thermal resistance is lower and it's conducive to work in confined spaces.
MOSFET: American Fairchild FDBL0150N80 ( Fairchild, which has been acquired by ON Semiconductor).
Driver IC: American TI company UCC27211. This chip is also used on MTSPF7.5H 300A 85V Controller On MTSPF7.5H, the driver IC drives four parallel MOS without any pressure; while on 7.5R, it only drives one, which is even more fearless.
Current High-Speed Sampling Chip: American TI Company INA240. It can make the current sampling faster and more accurate, and has a good improvement on the FOC and over-current protection functions.
DC-DC module: The first stage DC-DC uses TI's LM5161 to convert the main power supply voltage to 12V; The second level of DC-DC uses Microchip's MCP16311 to convert 12V to 3.3V and 5V. The current of the two-stage voltage conversion chip is 1A. Considering that the internal circuit needs 100ma, the external output current is controlled within 900ma.
CANBUS interface chip: TJA1051 of NXP Company.
Capacitor: 4pcs Japanese Rubycon ZLH 80V 330uf.
Encoder: This ESC does not integrate the AS5047 encoder chip. If necessary, please purchase the encoder board separately.
Firmware standard: VESCTOOL automatically recognizes this ESC as 75_300. This firmware can be used.
Attention Points when you receive the controller Please:
All products had been double checked and tested one by one before shipment, only if the products are working normally would be shipped out. 
When you receive the controller, please test without load and do not connect motor, first check if the 

controller

can successfully connect to your computer, if ok, then connect to motor and you can start to adjust parameters.
Do not use switching power supply, the instant voltage when switching power supply connect to 

controller

is very high, which would easy damage the

controller

.
Do not push the throttle too hard when test without load, gently and slowly speed up.
Be cautious when adjust parameters, if parameters set mistake, would also easy damage the

controller

.
Please must remember to change to corresponding modes when you adjust parameters, for example, the 

controller

default mode is BLDC mode, but if you want to detect FOC mode and adjusted FOC parameters, at this time if mode in VESCTOOL didn't change to FOC mode, then when you push throttle, would easy burn the

controller

, same as FOC mode.
In FOC mode, ERPM suggest to control in 30000-40000; In BLDC moed, ERPM suggest to control in 50000-60000, otherwise driver IC would easy to be damaged. ERPM= motor pole pairs number * KV * Voltage 
ERPM= motor pole pairs number * KV * Voltage
If you use UART port, the wire better do not over 0.5m or even shorter, and better use Stranded wire.
The above are only suggestions based on the experience of our engineers. how to actually operate is up to you. Parameters for different setup is also different, please noted
The standard version is without heat sink case. There are four M3 screw mounting holes on the standard version. If need, Customers need to equip themselves with heat sink and dustproof and waterproof solution when running in high current situations. It is recommended to stick the bottom surface of the ESC (the surface without components) to the heat sink. However, the indicator light on the ESC is on the component-free surface, so customers need to consider the light guide method of the indicator light. 
The second version comes with a CNC aluminium case. There are mounting holes on the case and the surface components can be filled with glue (as far as possible, the customer can do it by themselves. We will charge for it if we make waterproof treatment). All components except capacitors and pins are IP66 waterproof. For the waterproof of the pins, Customers need to confirm which pins need to be connected, and potting out the pins that are not connected. 
Recommend Remote Controller: 
Related VESCTOOL Compatible Speed Controllers:  
 Recommended Brushless Motors: 
Share
View full details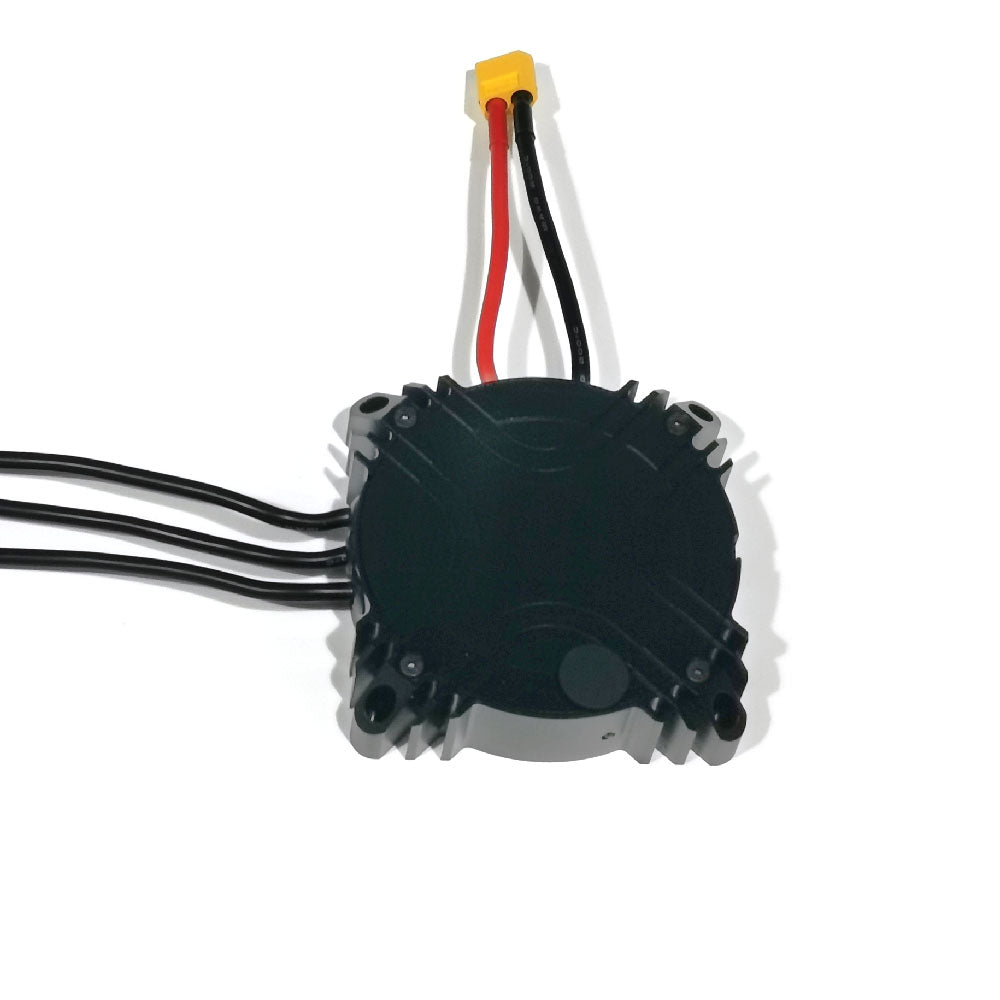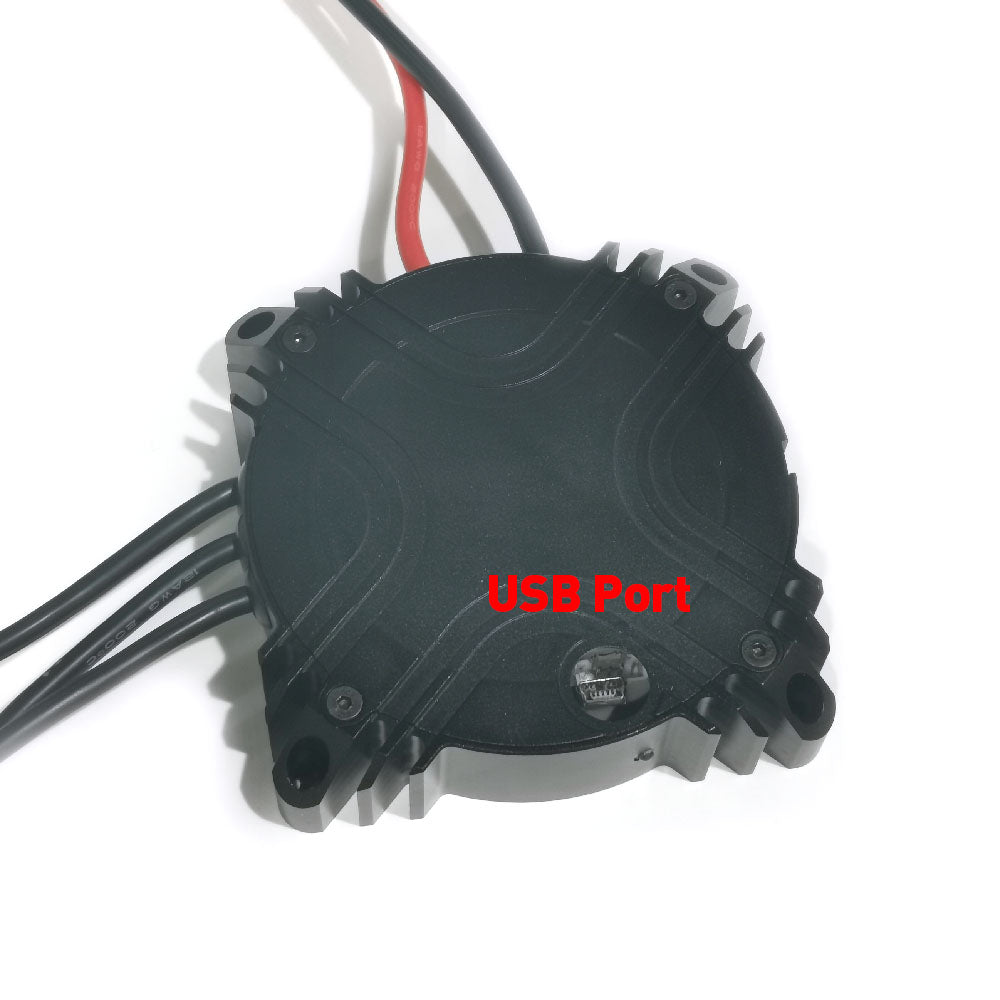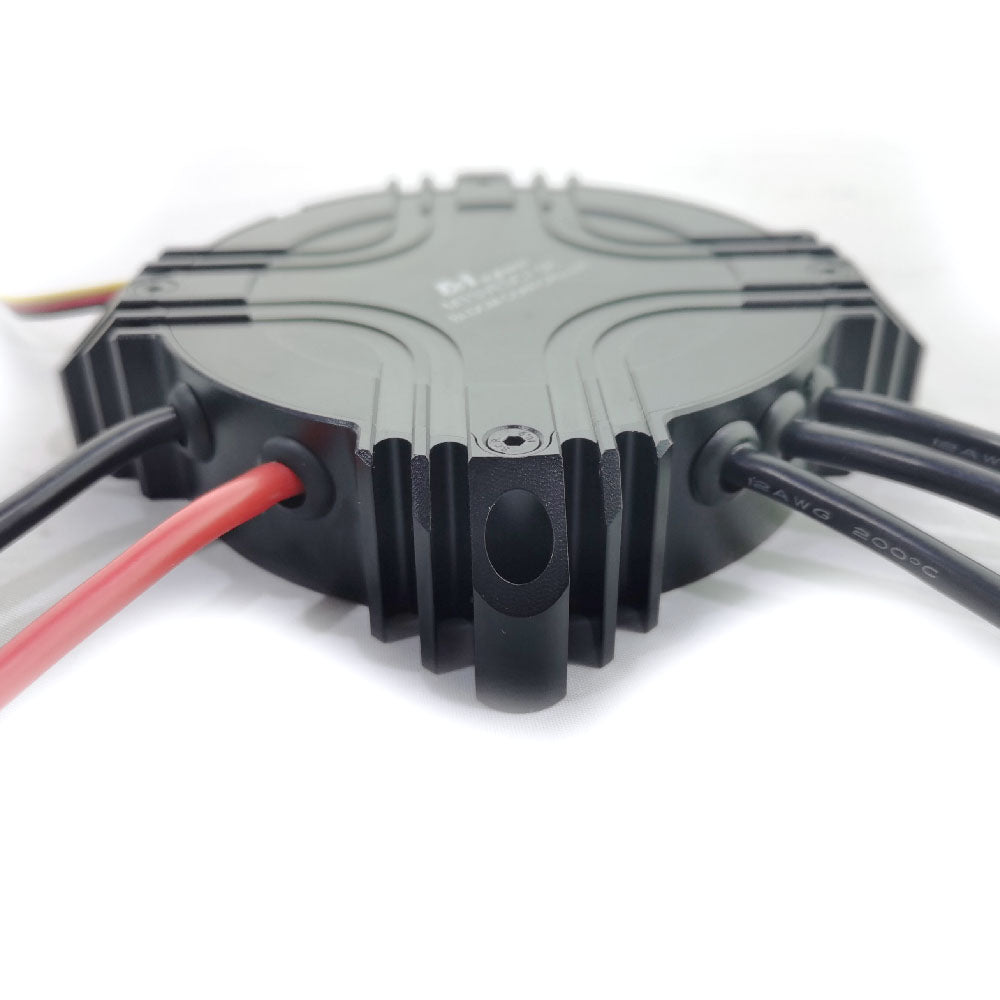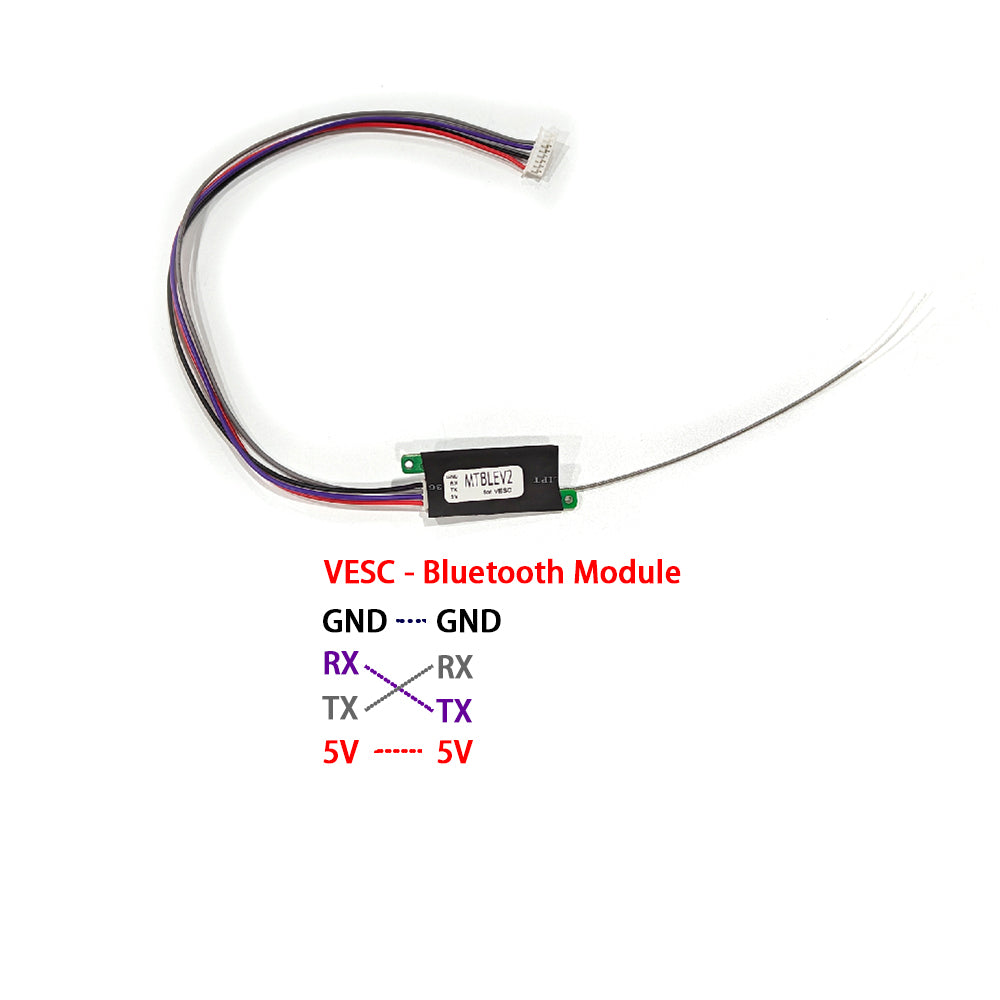 😍 Frequently Bought Together
In Stock Brushless 6374 Sealed Motor 8mm Shaft Sensored 90KV 170KV 190KV 220KV

$98.80

+

In Stock Maytech Foil Boost VESC 100A V6 Speed Controller with Heat Fin for SUP Foil Esk8 Robots

$131.80

+

In Stock Maytech IP67 Waterproof Remote MTSKR1905WF Controller for Esk8/ Esurf/ Efoil

$99.90

+

In Stock Maytech DIY Foil Boost Kit with 3.5KW 6374 Waterproof Motor + 100A V6 based VESC Controller + MTSKR1905WF Waterproof Remote

$314.20

+

In Stock SUPERFOC6.8 50V V6.0 based Speed Controller Great FOC Function

$159.00

+

In Stock V5 Bluetooth Module Can Automatically Switch VESC Communication with Receiver or Bluetooth Module

$47.80
---