Regular price
Sale price
$99.90 USD
Unit price
per
Sale
Sold out
Specification: 
Model No
MTSKR1905WF (V2),

 

upgraded waterproof and signal strength
Waterproof Rank
IP67 with 2 layers nanometers coating
Control Mode
Esk8/ Esurf
Signal Format
Support Standard PWM (PPM) and UART, output range from 10%-20%, which correspond to ESC/VESCTOOL Compatible controller throttle output range from 0%-100%. 
PWM Signal Output Range
1ms-2ms for throttle no brake in Esurf mode; 1.5ms-2ms for throttle, 1.5ms-1ms for brake in Esk8 mode. 
Double Source Power Supply
Accept 5V power by ESC built-in BEC or extra 5V power
Output Signal
Max 3.3V
Display

Remote and battery power, signal strength, throttle and brake percentage, RPM; speed, mileage; Current, voltage, temp when work with VESC 

Control Pump
Yes (Relay Switch)
Control Light
Yes (Transistor Switch)
Safety Button
Support
Cruise Control
With in Esurf Mode
Brake
With in Esk8 Mode
Wireless Charging
Yes
Package Includes
Transmitter, receiver, charging Pad, receiver, wristband, 3pcs dupont cable
Compatible Controllers
VESC/ Focbox/ Other PWM ESCs that has same signal output range with the remote. 
Application
foil assist system, electric propulsion, underwater thruster, electric outboard, Esurf, Efoil, electric hydrofoil, electric surfboard, electric skateboard/ elongboard/ mountainboard, electric paraglider, etc.,
Features: 
1. Display speed (km/h or mph) in Esk8 mode (for electric skateboard)2. Display voltage in V, current, temperature when work with VESC based controller
3. Display RPM (by 3 ways, hall sensor, VESC, motor wire)
The remote has 2 Modes, signal output pulse width is different in 2 modes:
Esurf Mode is 1ms-2ms, no stop no brake, if you use Esurf mode to work with VESCTOOL compatible controller, please use below settings in VESCTOOL and to match with the remote:
PPM Control Type:

Current no reverse


PPM Mapping:

Pulselength Start: 1.1ms; Pulselength End: 1.9ms; Pulselength Center: 1.5ms
Or you can use wizard mode to detect compatible value. 
Esk8 Mode is 1.5ms-1ms (Brake), 1.5ms-2ms (Speed up), 1.5ms is stop position.
Please noted to match compatible parameters for different modes in VESC_TOOL. 
If your surrounded has strong magnetic interference, the signal might easy get lost, suggest you order the version with 1m or 3m extend antenna. 
Tips After Using:
In order to avoid being corroded by sea water and to extend the remote life, please wash the remote in fresh water after using; Also please charge when the remote all dry. 
Go to the following Youtube Links to check the remote instruction videos:
1. Motor RPM display by MOTOR WIRE:
https://youtu.be/N1IV1dJbil0
2. Motor RPM display by Hall Sensor:
https://youtu.be/YBRBzAa-3ww
3.
Motor RPM display by VESCTOOL compatible controller:
https://youtu.be/qqaZf78ilV4
4. Esk8 mode with speed, current, distance, etc:
https://youtu.be/ycFya3Xn7YU
5. Adjust Current mode and Duty cycle mode by remote:
https://youtu.be/BPRIhySE7lw
6. Connect to controller or VESCTOOL Compatible Controller:
https://youtu.be/sDiAPsg0hWc
7. Remote voltage display for Esk8 and Esurf:
https://youtu.be/LZf98XgVwwI
8. Remote can control two switches for Esk8 light and Esurf pump:
https://youtu.be/USQHbe3tCOs
9. Receiver wiring with VESCTOOL compatible speed controller
(You can select the functions you need and connect them accordingly.)
10. Receiver wiring with Maytech
MTSF300A-OPTO
ESC or other OPTO ESC, (You can select the functions you need and connect them accordingly.)
Related Products: Click the pictures to check specs
Esk8 Products: Brushless Motors
Fully Water Efoil/Esurf/Boat Kit with Inrunner Brushless Motor+Remote MTSKR1905WF+300A ESC
Share
View full details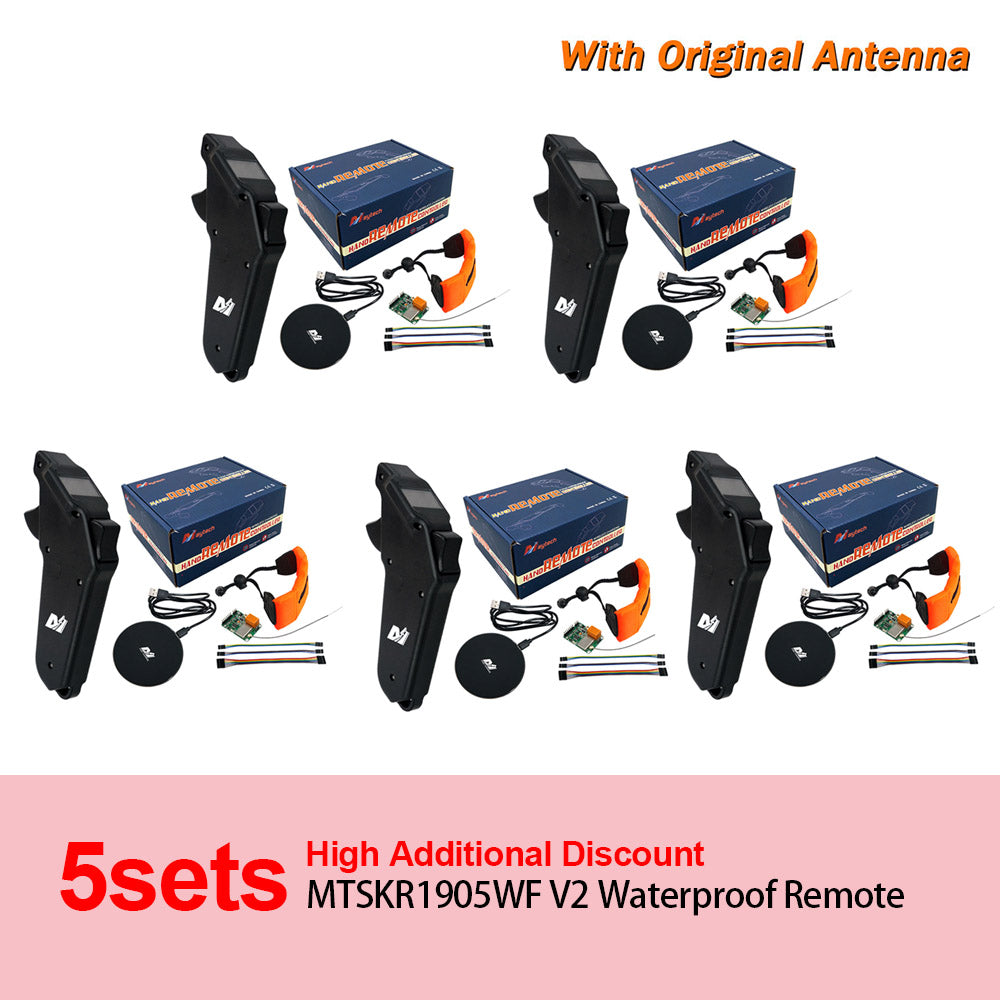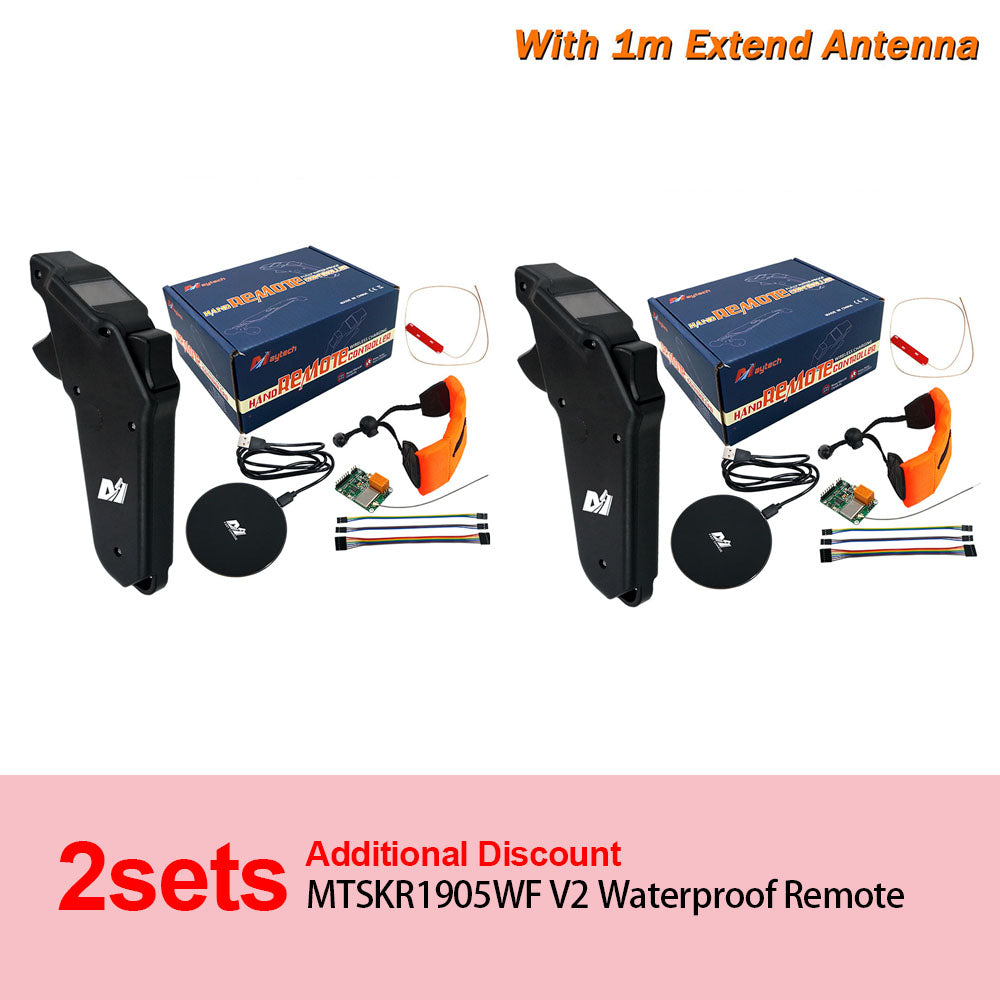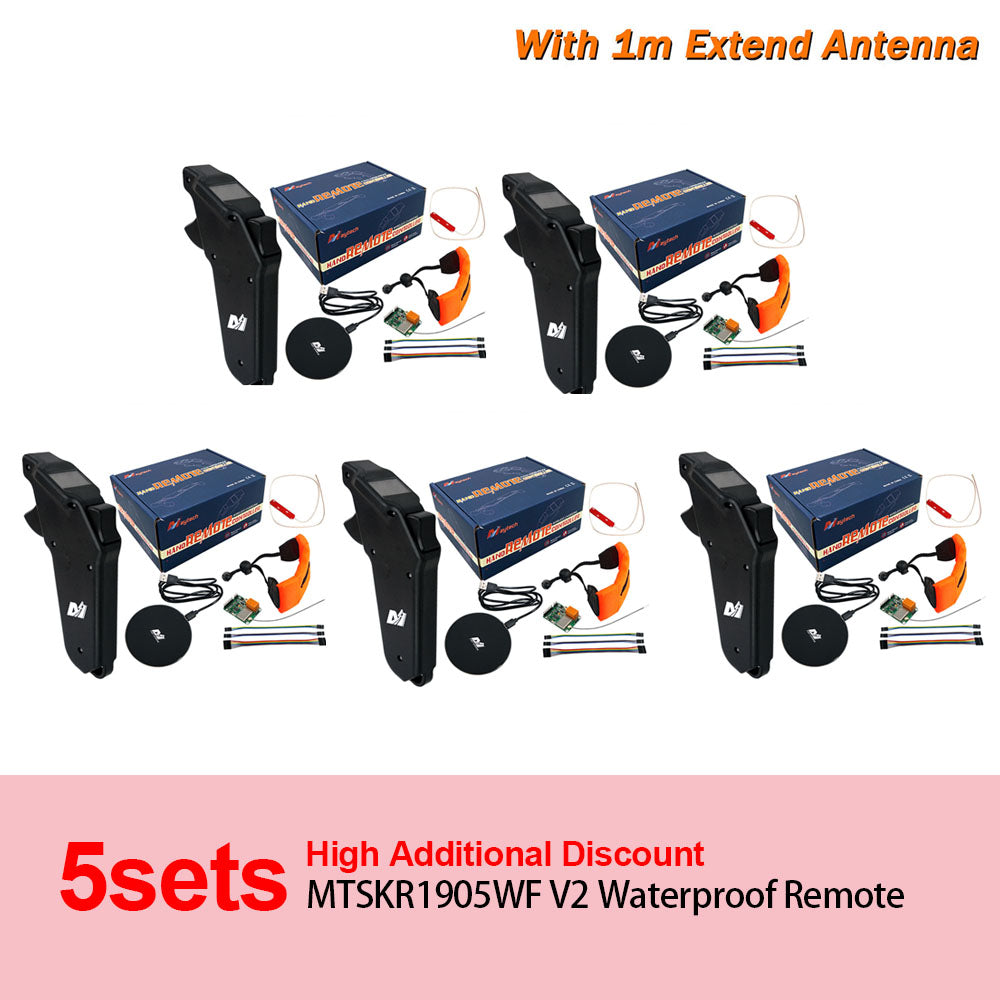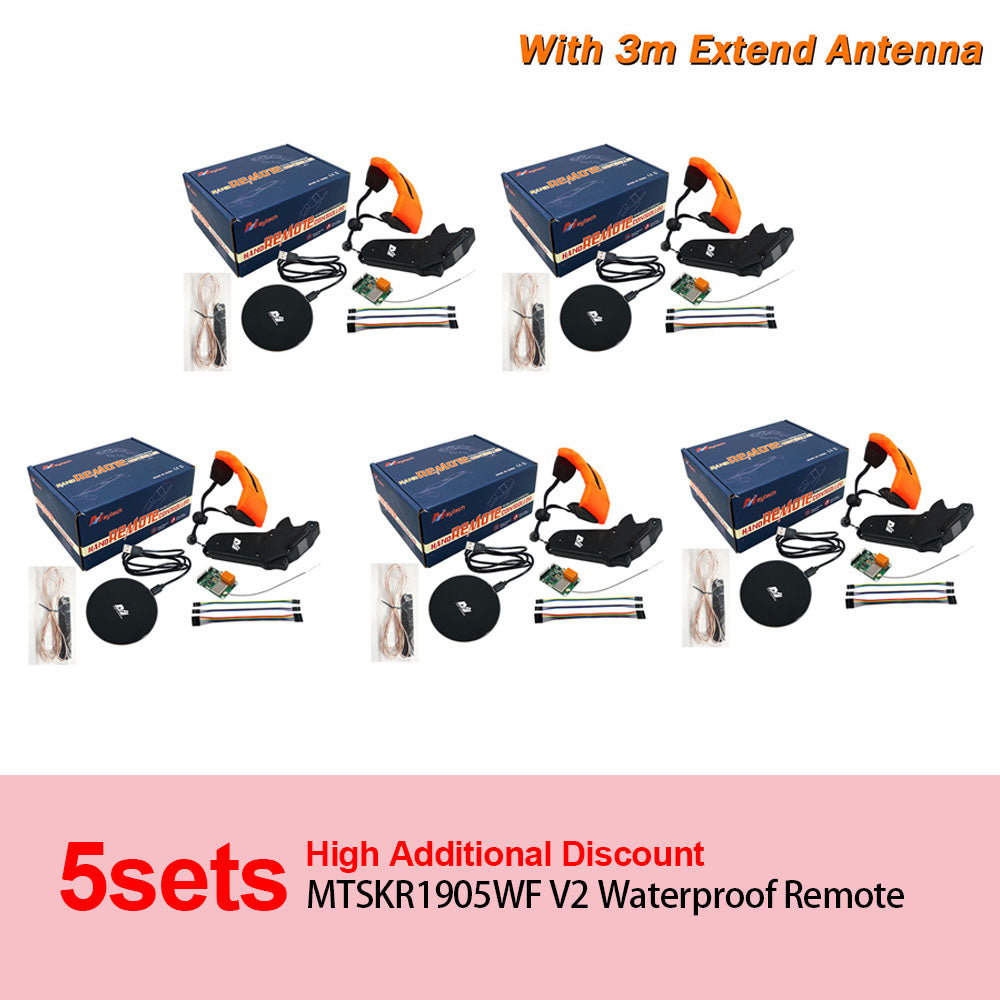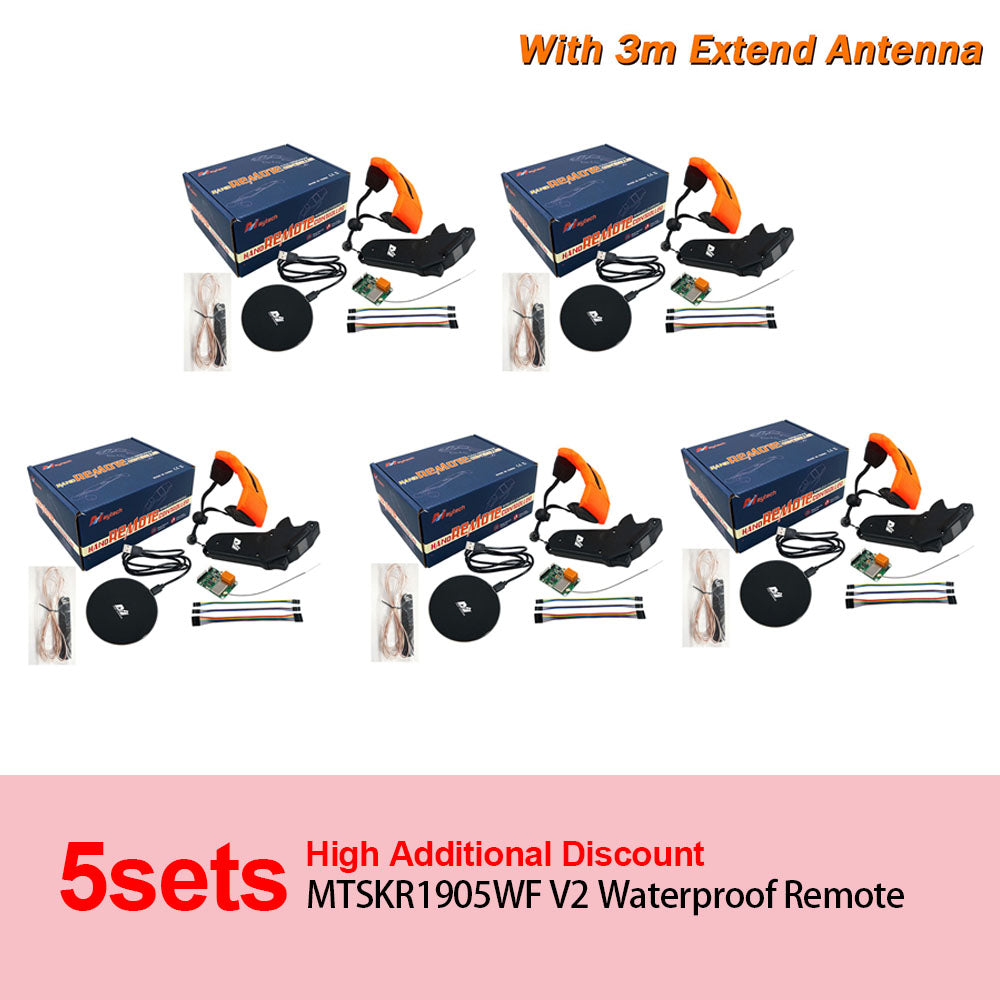 😍 Frequently Bought Together
In Stock V5 Bluetooth Module Can Automatically Switch VESC Communication with Receiver or Bluetooth Module

$47.80$43.02

+

Maytech Waterproof 300A 14S 60V Watercooled ESC for Efoil Electric Surfboard Jetsurf

$762.30$686.07

+

In Stock 2pcs/ 5pcs MTSPF7.5HK 300A 75V based on V75/300 SuperESC Watercooled Speed Controller

$519.00$467.10

+

In Stock Maytech Foil Boost VESC 100A V6 Speed Controller with Heat Fin for SUP Foil Esk8 Robots

$141.70$127.53

+

In Stock Maytech Fully Waterproof Efoil Motor MTI65162 120 Brushless Inrunner Motor

$449.00$404.10

+

In Stock DIY Foil Boost Motor 6374 Waterproof Outrunner 150KV Sensorless Motor for Electric Propulsion System Power Assist Efoil

$120.90$108.81
---